Guys, if you come to
Seremban, N Sembilan
, Do not forget to come to taste
Satay
RK here. If in Kajang, you can buy satay kajang [Satay Hj samuri is one of the famous in Kajang] but in Seremban Satay RK is most delicious here.
Where is Satay RK Location ? If you from KL, take 1st PLUS highway exit [ Shown exit Seremban Labu]. Take left and continue your drive until 3rd traffic light. After the these traffic light there are rows of building on your left hand side. Enter to these area. Drive until end of the road. You will see Restoran Satay RK at the end of the road.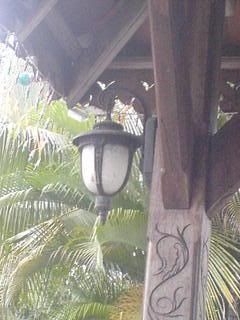 You can see satay RK from main road actually.
If you come from Bandar, Go toward Terminal 1 and enter to Jalan Sg ujong. From here go straight until traffic light [ Restoran Satay RK at your right hand side]. Make U turn and enter to the area.
Or you may find
Hotel Seri Malaysia
as a landmark
Look, the light so antique plus "ukiran kayu" . Very classic.

And these is the front of the restorant

Here, they "panggang" the satay on "bara api". I bet you smell of satay here very very good ...